---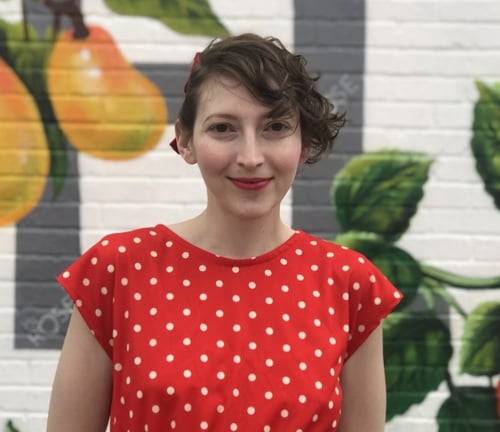 Geometric light fixtures have been on trend for years now, and their popularity doesn't appear to be fading anytime soon. What makes them so desireable? Well for one thing, they have the potential to cast beautiful patterns of shadows around a room. Their fun aesthetic allows them to double as pieces of art that command your attention when you entire a room. And lucky for us - they're also a fairly easy style of light fixture to DIY.
I constantly come across different DIY geometric lamp frames, so I decided to examine my favourite 5. How are they made? How easy are they to make? How did they achieve their geometric form? Here's what I learned...
#1 - A Flexible Pendant Light Made From Plastic Straws  
WHAT YOU'LL NEED:
Embroidery Thread
Decorative Beads
Straws
Scissors
Spray Paint - optional
Ama, a Belgian transplant in Mexico, created this lamp out of plain plastic straws. Ama threaded cut lengths of straw with embroidery thread, and used colorful beads to join them at the vertices. It's definitely an easy build, requiring no special tools or skills.
The structure is firmly held together by tension created by the thread, but since straws can bend and crack pretty easily, it is prone to damage when moving it around. Metallic spray paint hides the true straw nature of this lamp, giving it a gorgeous finish, but making it appear a bit sturdier than it actually is.
My favorite thing about this lamp is that the design is flexible: you can easily remake it in any different geometric configuration you dream up. Since the materials are cheap, accessible, and easy to cut, it's super easy to experiment and customize this design and learn how geometric structures form.
#2 - An Easy Gem Construction Made From Cardstock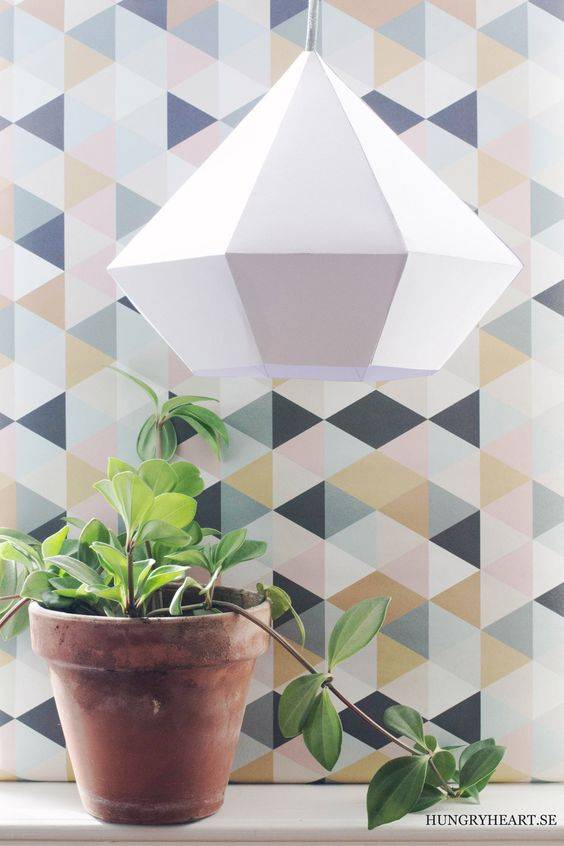 WHAT YOU'LL NEED:
A lamp holder with textile cord
4 pieces of printer size card stock (She used European standard paper size A4).
Glue gun
Ruler
Scissors
Scalpel or Utility Knife
Cutting mat
Something to crease the paper with, e.g. the backside of a knife or a weatherstrip tool
Template: This you'll have to make yourself or purchase
Next up is a simple construction from Sweden: Ruth's pendant lamp made of white cardstock. This gem of a lamp is simple to put together: Ruth cut and scored each vertical segment of cardstock, then just hot glued them together with long tabs on the sides.
The thicker the cardstock, the more sturdy (and heavy) your lamp will be. Because this lampshade is paper-based, and paper is pretty flammable, it's a good idea to light the lamp with an LED bulb, which produces much less heat than an incandescent or fluorescent bulb.
The diamond pendant design shown here is quite elegant in white, but you could certainly jazz it up with a contrasting interior or metallic finish. You could also follow the general construction method shown here to make this lamp in any other geometric forms (like a cube or dodecahedron or rhombic triacontahedron). Just leave a panel or two open at the bottom to let the light shine down.
#3 - A Copper Pipe Icosahedron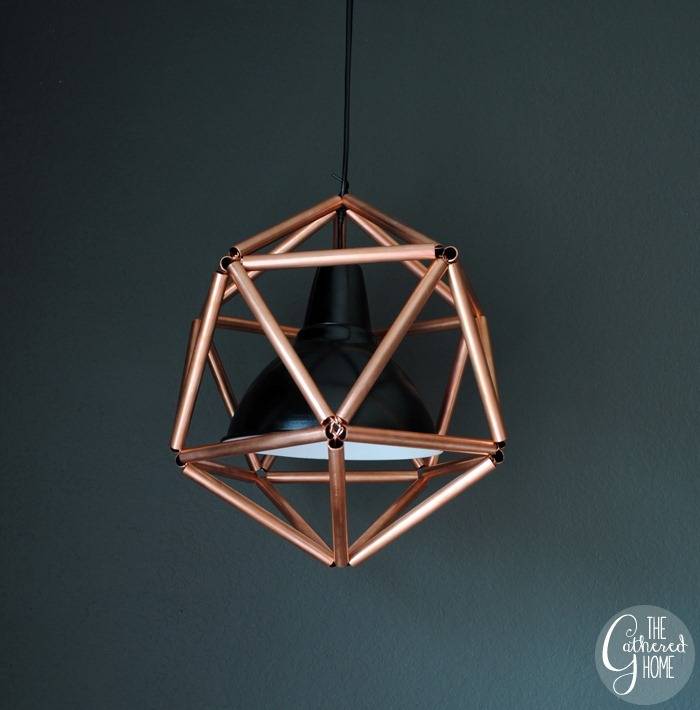 WHAT YOU'LL NEED:
2 pieces of 10 foot 1/2" copper pipe
25 feet of copper wire
Moving on to slightly heavier builds, Dallas brings us Brynne's copper pipe icosahedral lamp, quite a decent upgrade over plastic straws. This construction uses 1/2" copper pipe, threaded together with copper wire.
An icosahedron is made up of 20 triangular faces, with a total of 30 edges. Measuring and cutting 30 equal lengths of copper tubing is a bit more tedious than snipping straws. Still, all you need is a small diameter metal tube cutter, so it's a relatively easy process (especially for metalworking!).
Copper pipe is a gorgeous choice for this lamp, and the copper wire looks wonderful binding the tubes together. I might place an elegant LED Edison-style bulb in there instead of the pendant light, to complete the retro-futuristic look.
Remember that copper is able to conduct electricity, so be extra careful that there aren't any exposed wires in your bulb mount. No one needs a shock when examining your creation! And if you aren't going the Edison-route, an LED bulb is always a good choice because it uses less electricity.
#4 - Square Frame Made of Wood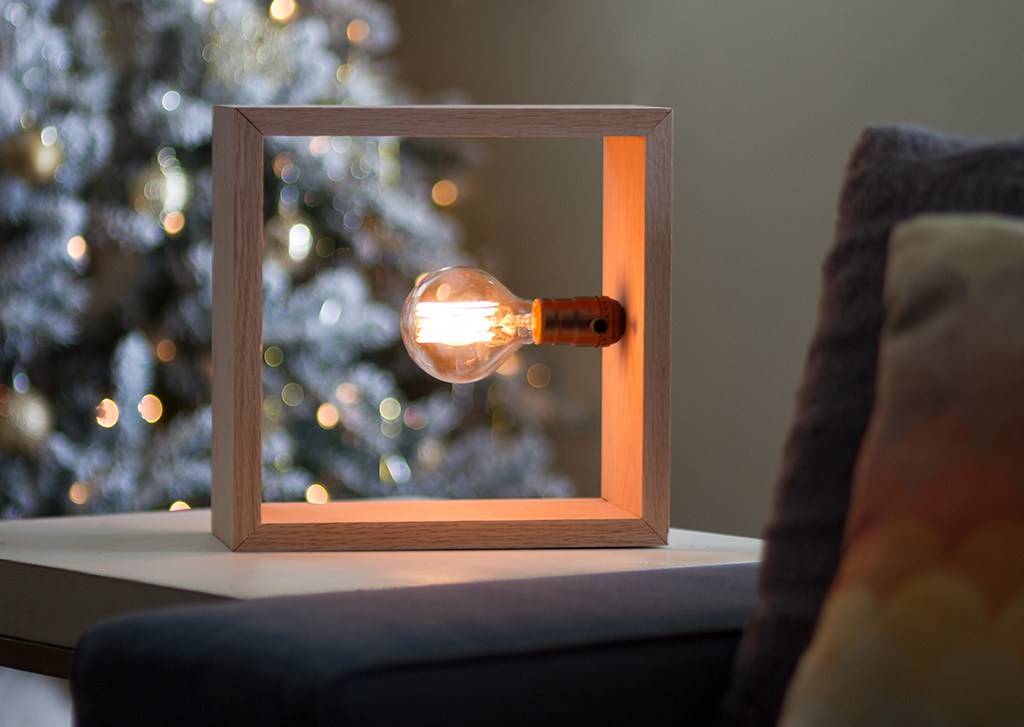 WHAT YOU'LL NEED:
4 pieces of wood (cut to length 8″ or longer")
Painter's Tape
Pencil
Wood glue
Ruler or tape measure
Level
Drill (and bits)
Light bulb
Stain (optional)
Wrench
Screwdriver
Orbital sander or sanding strips (optional)
Next up from Kansas is Audrey's wooden square lamp, built using one of the kits from I Like That Lamp. This is a square, wooden frame, with a socket mounted on one edge. It's about as simple as woodworking gets but does require the use of power tools.
Audrey and Ted cut 4 equal lengths of wood and mitered the edges at a 45° angle. They glued them together, using masking tape to hold the structure instead of any fancy clamp array. The beauty of this lamp lies in its simplicity and the ingenious bulb placement. The light on the side adds a bit of weighted asymmetry to the look.It's also a flexible design, you can rotate the lamp to position the bulb on the top or bottom as well. Speaking of bulbs, any design with an exposed bulb is going to look a lot better with an Edison bulb or something similarly designed for accent lighting.
#5 - An Industrial Concrete Gem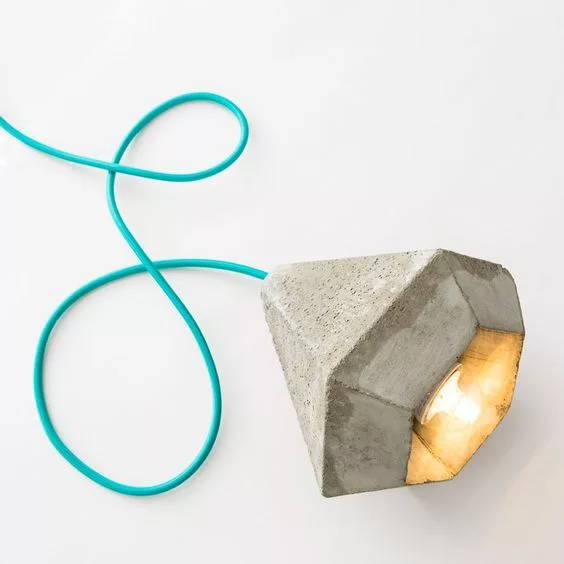 WHAT YOU'LL NEED:
Concrete Mix - 11 cups
Latex Paint - High Gloss Finish - 8 oz.
Foam Paintbrush
Hot Glue Gun + Glue Sticks
Bubble Tea Straw (A thick straw)
Craft Glue
Chipboard - 18 x 24 inches
Zip Ties - 11 inches
Mini Wire Cutters - 5 inch
Needle Nose Pliers
Electrical Tape
The last, and heaviest, geometric lamp is from Brit + Co. This lamp is the sturdiest of the bunch and made from concrete (a mixture of cement, sand, and water, which can be spread onto or poured into basically anything that won't leak). Ben Uyeda (the creator) first made a mold out of chipboard to cast the concrete diamond.
If you're going to be making a lot of chipboard casts (lucky you), consider using a cutting machine (like the Cricut Maker) so that your cuts come out the same over and over. Although repeatability is a hallmark of quality, so is a handmade touch. Don't be afraid to work with what you have, the happy accidents and deviations that you introduce into each project are opportunities for your creative genius to take hold.
From afar, this might seem like an intimidating construction if you haven't worked with concrete or molds before, but it actually isn't all that difficult. Ben pegs it at a beginner skill level. Once you start casting with molds, you'll begin to look at all the bowls, bottles, and boxes around your house in a new light. Hopefully literally!
BONUS: Covering Geometric Frames With Styrene
Alright, that's it for all the shining geometric gems! As a bonus, check out how to make lampshade panels for any geometric frame. Adhesive styrene provides a flame-resistant coating on the interior, safe for even high wattage lights. And since it's adhesive, you can stick it to most pretty materials that catch your eye.
I hope you found some inspiration from these DIY geometric lamps, and that you're not afraid to make one of your own. If you do, please drop us a line or leave a comment below and let us know how it went!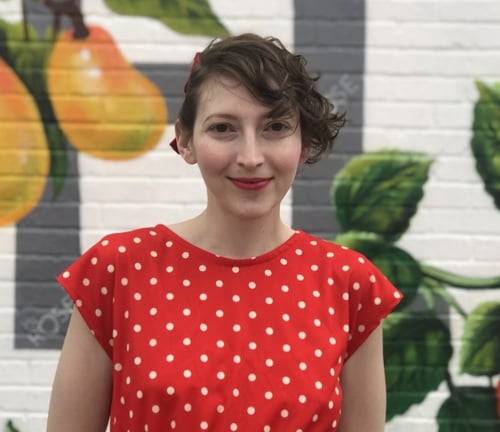 Ali is a self-proclaimed DIY crafting geek, a work-at-home mom - an engineer! - and the face behind the DIY craft blog Cut Cut Craft, where she writes DIY tutorials and reviews. When she's not playing with her kiddos, Ali loves creating DIY crafts + teaching. Follow her on Pinterest, Facebook + Twitter.